Citizens' War Memorial Gifted to the City
22 October 2021Media Release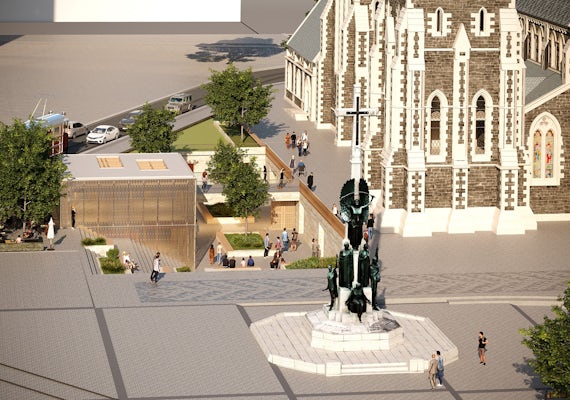 The Citizens' War Memorial has been gifted to the people of Christchurch and is set to be reinstated on public land in Cathedral Square next year.
Mayor Lianne Dalziel formally received the Memorial as a gift from the Anglican Diocese of Christchurch at a special ceremony held today.
The ceremony was attended by the Right Reverend Dr Peter Carrell, Bishop of Christchurch, the Very Reverend Lawrence Kimberley, Dean of Christchurch, and members of the Returned and Services' Association.
"On behalf of the people of Christchurch, I am very grateful to receive the Citizens' War Memorial into the city's ownership and care," says Mayor Dalziel.
"It is one of our principal memorials to those Canterbury men and women who lost their lives in war.
"It was originally funded through the efforts of George Gould by public subscription, so it is very appropriate that it goes to the people of Christchurch and occupies a prominent place on public land in Cathedral Square.
"The recent granting of the necessary building and resource consents for the repair, strengthening and reinstatement gives us surety of the pathway moving forward.
"The focus now is on getting the work done as soon as possible so we can restore public access to the Memorial next year," adds Mayor Dalziel.
Dean Lawrence Kimberley says gifting the Memorial to the city is the right thing to do.
"This is a wonderful milestone for the city and for the Anglican Diocese of Christchurch. Together, the Cathedral Chapter and the Church Property Trustees are very pleased to gift the Memorial to the people of Christchurch and to support the Council in relocating it.
"The Chapter and the Cathedral community have a special, long-standing spiritual and moral relationship with the Memorial and, collectively, we look forward to seeing it repaired, strengthened and reinstated on its new site in the Square."
Work to carefully deconstruct the earthquake-damaged Memorial started in April this year.
The bronzing and stonework was painstakingly disassembled over a period of months and placed into temporary, secure storage.
From there, a stronger internal structure will be constructed to replace the old concrete and steel elements that were crumbling and rusting.
The Memorial is expected to be reinstated on its new site in time for ANZAC Day 2022.
Pictured above: An artist's impression of the Citizens War Memorial in its new position, slightly forward of the restored Christ Church Cathedral.